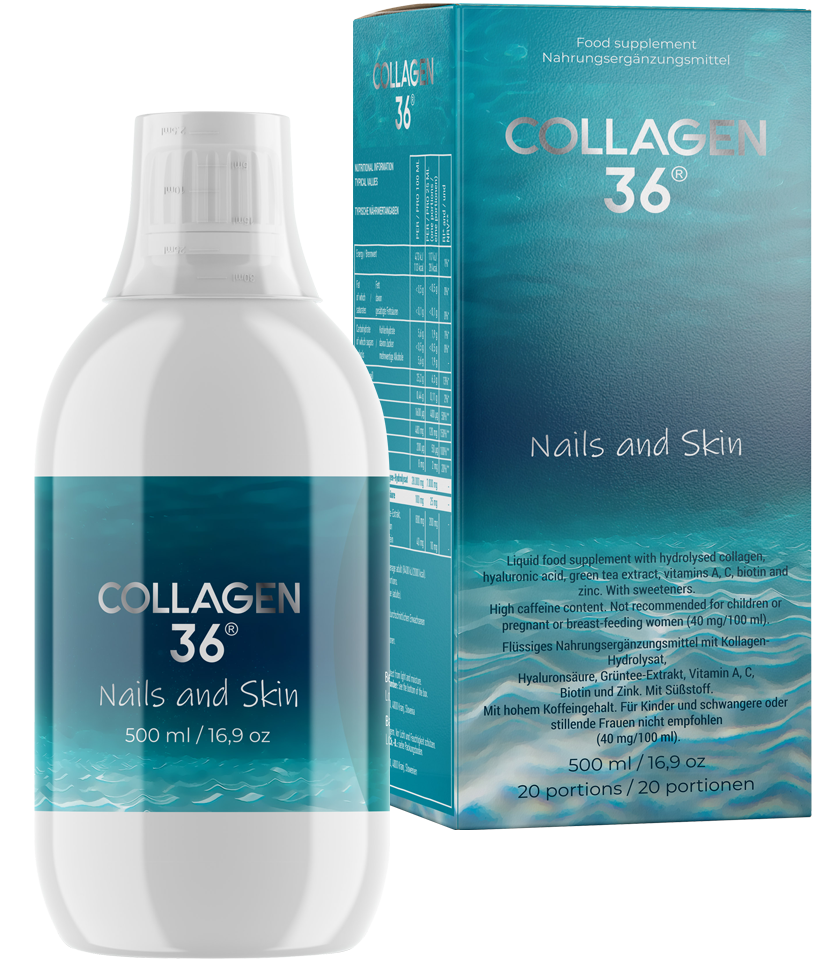 Healthy, strong nails like never before
Peach and green tea flavored Collagen36 Nails and Skin is the only collagen drink on the market specially designed for targeting nails!
Great flavor and pleasant aroma.
Sugar-free, gluten-free, lactose-free, does not contain traces of soy.
Collagen36 Nails and Skin beauty elixir is a dietary supplement with high content of marine collagen, hyaluronic acid, zinc, and vitamins. Taking Collagen36 Nails and Skin regularly stops the natural aging process. Collagen36 Nails and Skin helps you maintain youthful looks and make your nails stronger. Regular users report that their skin feels smoother.
This is the first collagen on the market renowned for its pleasant aroma and excellent taste – peach and green tea flavor.
Collagen36 Hair and Skin is ready to drink. No need to mix. Suitable for people who have difficulty swallowing pills and capsules.
Sugar-free, gluten-free, lactose-free, does not contain traces of soy.
Collagen36 Nails and Skin beauty elixir comes in 500 ml bottles in a cardboard box. Dosing cap included.
Recommended daily intake is 25 ml. One bottle will suffice for 20 days.
A 25 ml dosing cup for precise dosing is included. Shake before use.
Consume in the morning on an empty stomach. It is recommended not to eat anything else for 30 minutes after drinking the elixir.
The best results were achieved by users who combine the use of Collagen36 Nails and Skin beauty elixir with regular aerobic exercise at least three times a week, a balanced diet with as little sugar as possible, and drinking sufficient amounts of water.
Nutritional value and ingredients
| | | | |
| --- | --- | --- | --- |
| Ingredient | Concentration | Function | EFSA approved claims (relevant to hair health) |
| Vitamin A (as retinyl palmitate, "relative" to retinol) | 400 mcg (50% RDA*) | Has a role in cell specialization, also known as cell differentiation – a process by which generic cells change into specific cells meant to do certain tasks. | Vitamin A has a role in the process of cell specialization |
| Vitamin C | 120 mg (150% RDA*) | Has a role in collagen production – a protein that gives shape, strength and integrity to many tissues and is the building block of nails. | / |
| Zinc | 2 mg (20% RDA*) | It is required for many reactions in human body, including the growth and division of cells. Inadequate zinc intake can contribute to a degeneration of nail plate, causing the appearance of white spots on nails. | Zinc contributes to the maintenance of normal nails |
| Biotin | 50 mcg (100% RDA)* | It promotes healthy cell growth and aids in the metabolism of protein-building amino acids that are essential for nail growth. Biotin may help strengthen brittle nails. | / |
| Green tea extract, of which Caffeine | 200 mg 10 mg | Antioxidant | / |
| Hyaluronic acid | 25 mg | Helps to hydrate the skin | / |
| Glycerin | 2,5% | Humectant when used topically/solvent, sweetener, humectant in foods | / |
| Citric acid | 0,2 – 0,3% | Promotes skin peeling and re-growth of cells when used topically/acidity regulator in foods | / |
| Collagen hydrolysate (fish) | 7.000 mg | Provides amino acids that can be used to build nails. Decreases nail breakage. Boosts nail growth and appearance. | / |
*RDA = recommended daily allowance acc. to Reg 1169/2011
Features: 20 day programme (20 dosages á 25 ml), peach flavour, sugar-free, ready-to-drink, free from gluten, dairy, soy
Excipients: water as a solvent, flavourings, potassium sorbate and sodium benzoate as a preservative, sucralose as a sweetener
Collagen36 Nails and Skin can help you too
Users that drink Collagen36 Nails and Skin beauty elixir regularly, regardless of their gender, report great results after 60 days.